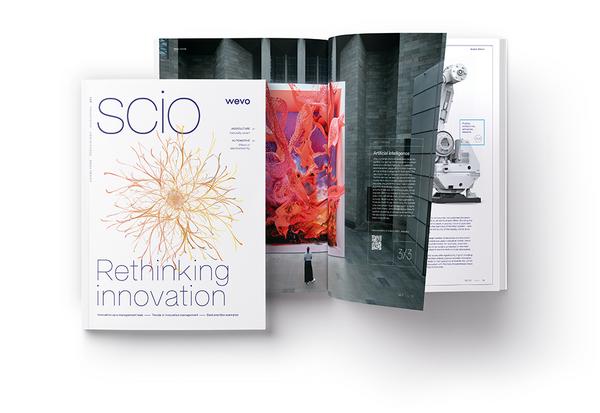 The name SCIO, Esperanto for "knowledge", expresses our aspiration to combine scientific facts with topical issues in this magazine. We bridge the gap between global technological developments and economic issues – always with a positive view of the future and in search of new solutions and opportunities.
SCIO is published as a printed magazine, but a selection of articles is also available online. If you're interested, you're welcome to request a copy free of charge. Click here for the order form.
In a business world that's changing at an ever-faster pace, innovation is more important than ever. As a management task, it is ideally a structured and goal-oriented process. We look at trends as well as best practice examples of successful innovation management.

More
The digital transformation of agriculture is taking place in the barn and out in the fields – using cameras, chips and sensors. Or in the form of data, which enables the work to be done in a more targeted and efficient manner. Animal welfare, the environment and climate protection are also benefitting from digitalisation.

More
The transition to electromobility is essential if the climate goals set by the German government for the transport sector are to be achieved. This also includes a well-developed charging infrastructure. Here's a quick look at the current situation in Germany, the players and the components.

More
Among other things, systems for storing renewable energy have to be further developed if the energy transition is to succeed. One such technology is redox flow batteries. Together with the Fraunhofer Institute ICT, Wevo has examined the possible applications of various materials.

More
Order your Wevo magazine here
These articles are part of issue #01 of Wevo's magazine SCIO. Would you like to have a printed copy? Then you're welcome to request a copy free of charge*.

Order form
* Only available to officially registered companies from relevant industries. We accept no obligation to provide a copy. Requests will be responded to by Email.
Image sources: Image 1: Kirell Benzi; Image 2: Daniel Balakov (iStock.com), tostphoto (stock.adobe.com); Image 3: FrankBoston (stock.adobe.com); Image 4: Stefan Hohloch;
Disclaimer (Extract) – Copyright and IP Rights: The contents published on this website are subject to German copyright and ancillary copyright law. Any utilization not permitted by German copyright and ancillary copyright law requires the prior written permission by the provider or the respective owner. This applies in particular to the copying, working, translation, storage, processing and reproduction of contents in databases and other electronic media and systems. Third-party contents and rights are identified as such in this regard. The unauthorised duplication and forwarding of individual contents or complete pages is not permitted and may possibly be punishable as a criminal offence. Only the creation of copies and downloads for personal and private and non-commercial use is permitted. The use of this website as external link shall only be permitted upon prior written approval oft he provider. Each and any firm or trademark is sole property of the relevant company. Citations of trademarks and names of third parties have a purely informative character. You will find the complete disclaimer in the imprint.